BDSM DDLG bondage and harness shop
We are a family business creating high-quality leather restraints, bondage, collars, cuffs, leashes, and accessories.
We have our own production workshop. In each model, we have put a piece of our life, soul, and passion.
Our products are characterized by high attention to detail, quality leather is combined with excellent fittings and of course high-quality handicrafts.
Therefore, they are durable, practical, and easy to clean. Now all products are made of leather of the same class, both outside and inside.
You can wet, oil, or wax all of our leather products. After these games, it will be enough to simply wipe them with a damp cloth to remove dirt.
We call it Easycare. Don't limit your imagination and play with our devices and equipment.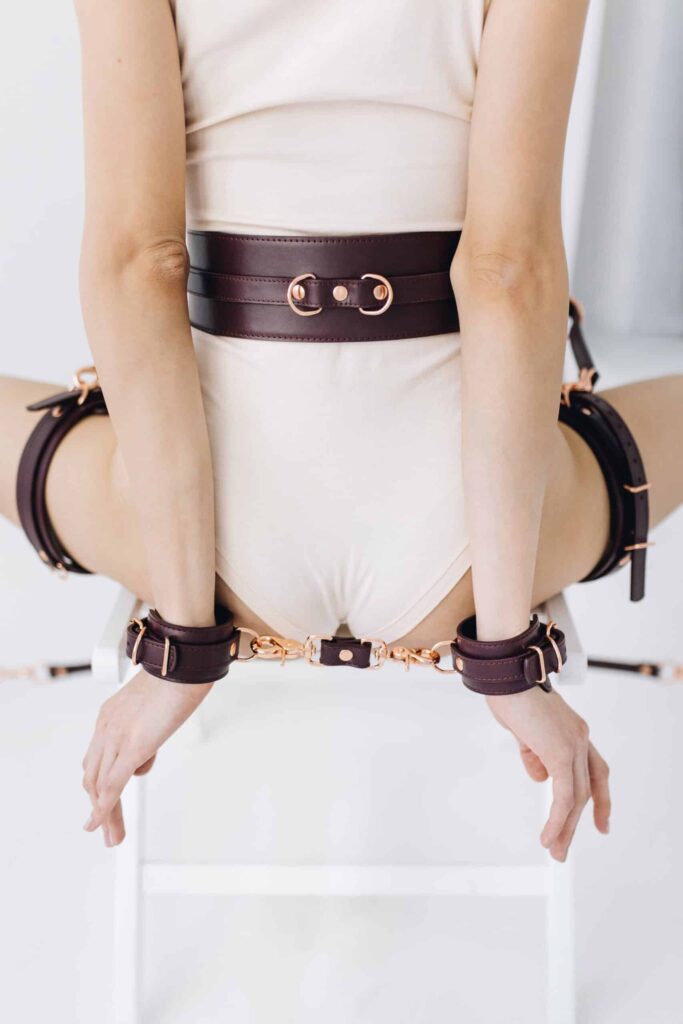 Welcome to BDSoMnia shop
Why buy from us
We offer a wide range of colors for the outer and inner layers of the product – 7 colors to choose from: Black, Red, White, Pink, Light Pink, Gray, Bordo. This means that you yourself can choose and combine the colors of the products!

Special edge processing technology: The edge of the product is treated with a special compound (aperture) to improve durability, aesthetics and prevent the user from scratching or cutting.

Products are made of two layers of leather; the lining is the same leather as on the main outside. Thanks to this production technology, our products are highly durable, wear-resistant and easy to clean. All of them (except for the flogger) can be wetted, waxed on them, actively used in active sexual games, and then it is enough to wipe it with soapy water, dry it and the product is ready for use again.

We use high quality nickel-free die-cast hardware. It does not scratch the user and is very comfortable to use. Carabiners with large fasteners quickly and conveniently unfasten and fasten. The fittings are presented in 3 basic colors to choose from: Silver, Black, Rose Gold. You can choose the color of the hardware yourself and combine it with your favorite leather colors – and here is a unique color solution especially for you!

Full customization. For your convenience and to better match the size of the products, we have removed the dimensional grid from the purchase process in our store. All you need to do is measure the circumference of your neck, wrist, waist, hip or ankle, depending on the product you have chosen, and indicate thisIn a special box that you will find in each product.
We receive measurements and produce a product for your individual size, and not for a general dimensional grid.

Gift Box. All our products are packed FREE of charge in anonymous discrete gift box, which is very convenient for storing and transporting products and at the same time will not cause unnecessary questions from others.

If you purchase our products as a gift and do not know the main parameters, we can offer you to sew them according to standard sizes and offer a ready-made size chart. Also, you can order a textual accompaniment of such a gift from us, which we will arrange in the form of a postcard and put it in a box with products, you only need text and here your imagination may not know boundaries
This is the difference when you shop on BDSoMnia
Worldwide Shipping
Worldwide shipping for all items.
Free Wrapping
All orders are packed in a free discreet package.
Quality Products
We use only the highest quality natural leather and nickel-free fittings. Therefore, our products look great, are durable and do not cause allergies.
Fast shipping
We use optimal shipping services for fast delivery. Average delivery time is 2 weeks.